---
Your Buttonizer Happiness is our first priority. You are fully protected by our 100% No-Risk Double Guarantee. If you don't like our plugin over the next 14 days, then we'll happily refund 100% of your money. No questions asked. Just start a refund ticket through the "Contact Us" in the plugin's admin settings and we'll process a refund.
Yes we have. As a matter of fact we started a YouTube channel where we will upload new video's on how to use Buttonizer every month
Yes of course. You will get automatic update notifications free of charge as long as you have a valid license key.
Yes we do! You can fill in the support form in the application in WordPress or fill in this form. We are happy to help you out!
All major credit cards, including Visa, Mastercard and American Express, as well as PayPal payments are accepted. Payments and subscriptions are handled securely via Freemius.
Simply cancel your subscription anytime from the Account panel on your site.
Once canceled, support and updates are still available until your license key expires.
You may manually renew your license key at any time to reactivate the subscription.
Sometimes when you upgrade your license the public entry key gets a little bit confused.
To make sure it works again follow the next steps:
Go to account

delete your Buttonizer account

make a new Buttonizer account

Enter the license key

It works again!
If you want to change your billing information, you can go to your Buttonizer dashboard → your account → billing information.
Whenever it doesn't work, or something went wrong with changing the billing information yourself let us know. We will manually change the billing information for you.
All plans are year-to-year.
Yes, you get a 20% discount for all annual plan automatic renewals. The renewal price will never be increased so long as the subscription is not canceled.
Absolutely! You can upgrade or downgrade your plan at any time.
---
A floating action button is a button that 'floats' on the right corner of your website.
Maybe you noticed already that a lot of applications (mobile and web) have their primary floating action button (FAB), on the right corner of their website or app. You see this a lot with chat functions. The Floating Action Button is becoming a standard in application and webdesign. Web visitors are getting more and more used to the fact that there is a floating action button which is the primary action you can perform on that page, in the right corner of a website.
The Buttonizer is a new way to give a boost to the number of interactions, actions and conversions from your website visitors by adding a Customizable Smart Multifunctional Floating Button in the corner of your website.
With Buttonizer you don't just add the same button to every page on your website. No, the key is that each action must be relevant. With the Buttonizer it's possible to add buttons to a select number of pages with "page rules", decide for each button if it shows on mobile and/or desktop, style your button with your own icons & colors, add social sharing buttons, Show the button on opening hours and make use of many more rules.
And the beauty of all: All actions are hidden in one button. The moment a visitor clicks on your Floating Action Button it will pop all specific buttons you've set for that page. Track each single button in Google Analytics so you can see which actions your visitors prefer.
In fact the Buttonizer is addictive to use. Your website visitors will interact like never before.
A Floating Menu gets automatically created if you assign multiple Floating Action Buttons to one page. You then get one button that opens the other buttons which are dedicated to that page.
So let's say you want to make a call button only on your mobile pages and multiple other actions on your desktop pages. Then you would get a single click to call floating action button on all your mobile pages and another button on your desktop pages. When you click the button on your desktop pages it will 'pop' open the different floating action buttons that you have set up for these pages.
The default option is the the floating action buttons get on top of each other when the floating menu opens. But maybe you want them to open in a different way, for example in the shape of a semicircle. If you got to General Settings > Styling setting in the interface you can choose what Button Animation you prefer.
When you are using the opening hours function for your Buttonizer the plugin will automatically use the timezone of the WordPress you are working in. If you have no timezone selected on you WordPress account the timezone will be set to Central European Time (CET).
Within the free version it is not possible to use page categories or page rules. After the upgrade it is possible to use these functions. This also includes showing or hiding the button based on the URL of the page.
So how do pages rules work in Buttonizer?
Go to Buttonizer in WordPress and click on 'Page rules'. Click on New category in the top right corner. Each category can consist of multiple page rules. 
For instance, you want to show a button on specific blog pages or on specific categories. When you have made all the rules you want, name your category by clicking the pen icon and then click on save. Then go to your button(s) and select your page category in the dropdown menu.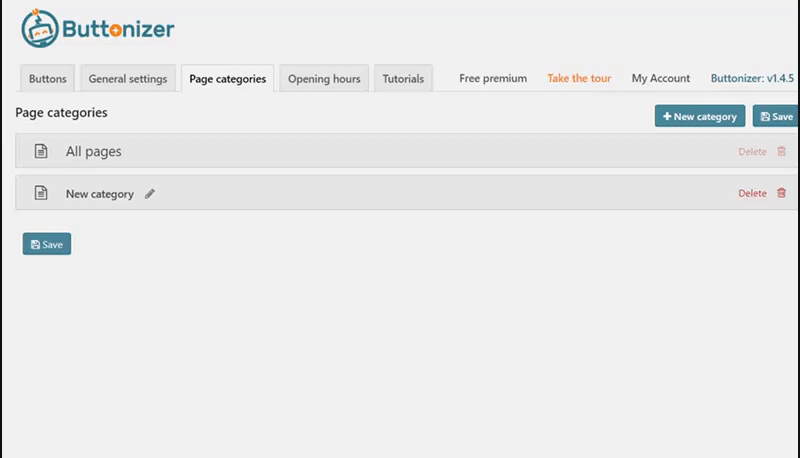 You can use that same product-key to activate Buttonizer on another WordPress site. You'll have to go to Account -> Activate license in your free version. It will download the premium plugin upon activation.
You can also manually install the premium version. You will be asked to enter a product-key after activating the plugin.
Important is that you have a multiple-license key. If you have purchased a single premium you can only use it on a single site at once. But, you can always switch websites with your premium license :). 
Yes you can! With the pro version you can use page rules to show and hide the button based on the URL of the page. This means you can have a different button for each different post or page you have!
Want to give it a try? No, problem - we give a 14 day moneyback guarantee. 
If you don't see any changes when you have added or changed a button, try to clear your browsers cache.
Do you have a caching plugin on your WordPress website? Go to that plugin and click 'clear cache'. For example, with WP Rocket you can click clear cache on the top menu in your WordPress settings.
All the click data of each button is displayed in the Google Analytics account you have set for your website. When you go to the Behavior section (left side of your screen in Google Analytics) and then click on events overview you will see that there is an Event category called Buttonizer.
Event Category: Each button you have set on Buttonizer will get the event category 'Buttonizer'
Event Label: This will be the name that you have given your button in the back-end in WordPress > This way you will recognize which buttons perform better
Event Action: This will be the page on which the button is clicked
If you want to test if the Google Analytics tracking is working. You go to Real Time > Events, open another tab, go to your website and click on the button. You should see hits coming in :).
If you don't see any interaction after testing (clicking on a Floating Action Button from Buttonizer) then go to your WordPress settings > Buttonizer > General settings > Advanced > And fill in your GA code if you haven't done that yet.
When setting up a goal in Google Analytics, choose Custom instead of a Template and select Event as the Goal Type.
At the next step you can set one or more conditions for your conversion. Name your Category "Buttonizer" and fill in which Action or Label you would like to consider a conversion.
This for example could be a click on the call button or redirecting someone to a specific page on your website.
With Buttonizer it is possible to trigger a pop-up window upon clicking the button. The easiest way to do this is with the Pop-up Maker plugin. 
You will need the premium license to make this possible.
Follow these steps: 
Go to Buttonizer and select the button that you want to trigger a pop-up
In the button settings, go to custom CSS class and add a name. It can be any name but for now choose the name pop-up.
Go to plug-ins and install Pop-up Maker
Add the pop-up that you want in the Pop-up Maker plugin, you can even add a contact form inside your pop-up
Inside your pop-up settings > add a click trigger
That click trigger has to be the name of the CSS class of your button with a '.' in front. So in this case fill in: .pop-up
You are all set! Click on save and test your button by clicking on it. It should trigger a pop-up 🙂 .
Watch this video for more information.
Of course! The default position of the button will always be on the bottom right corner.
Follow these steps if you want to change the position of the button. This only works if you have the old version of Buttonizer (Any version below 2.0):
Go to Buttonizer
Click on general settings
Click on the 'Placing & animiations' tab on the left side
Change the percentage on the horizontal and bottom placing. So if you want to allign the buttons on the top right corner, fill in 95% in the Bottom section.
By playing with the numbers you can position the buttons exactly where you want.
If you have the new version of Buttonizer (2.0 or greater) you can drag & drop your button wherever you like.
If you are reading this you probably want to make more complicated click actions, good for you! 🙂
In the click action of Buttonizer using Javascript you can add a single Javascript command. We are developping a whole new version of Buttonizer where it would be possible to run multiple scripts at the same time :). But for now you are limited to just one JS command.
Notice, for now it is not possible to disable the FontAwesome 4.3 that is loaded by Buttonizer. You can go to the plugin folder and navigate to /classes/Button.php to line 113. There you will find the following line code:
​​wp_enqueue_style('font-awesome', '//maxcdn.bootstrapcdn.com/font-awesome/4.3.0/css/font-awesome.min.css');
When you remove that line Buttonizer will not load the FontAwesome. However, when we update Buttonizer this line will be overwritten. So this is an temporarily fix.
In Buttonizer you can choose how your buttons are shown after clicking in the main button. Will all the buttons be on top of each other or in a half circle around the button. Depending on which one you choose, there is a maximum of buttons to be shown simultaneously. 
At the moment it is not possible to create more than 5 buttons in the circle. In Buttonizer 2.0 (we are working on that already) we will remove the social items because it is already implemented inside the button itself, in that case it will be possible to use all of the 8 buttons slots. So we will increase the amount of buttons in a few months from now.
About the default floating menu, there's a maximum of 9 buttons. We do think 9 items is a good maximum amount of buttons, specially when your guests view your website on mobile devices. When there are more then 9 items, they become too high in many cases so it will be impossible to click them. That's why we've chosen to give it a maximum of 9 slots
---
Give me a Buzz and I'll answer your question